BFSI Industry -
The Scenario Today in India
That leaders are known by the number of leaders they produce is a truism.
In businesses, great managers – and hence true leaders — are the drivers of growth, stability, and prosperity. They make the workforce future-ready. Over a period of time, many of them are remembered as iconic managers and leaders.
Talking about the BFSI space in India, if one were to go by a few viral videos or a few ongoing high-profile legal cases about alleged irregularities/malpractices, one may be tempted to paint a rather depressing picture of the sector.
Traditionally, in India, the famed Indian "entrepreneurial genius" has been somewhat missing in the BFSI space, as some would argue. The sector has not really been known for "super efficiency" either, as some others would argue.
What does our research say?
Unlike the picture that some of the recent sting operations style viral videos paint, 91.2% of the managers were rated as respectful managers in our recent research. The research asked 8783 workers from the BFSI sector in India to rate their people managers on 21 questions representing a total of 1579 unique people managers.
We plotted these 1579 managers on a care-competence matrix and arrived at four types of managers.

Consider this: Of the 8783 workers from the BFSI sector in India surveyed, a whopping 91.2% rated their respective managers as "respectful managers." The said workers were managed by 1579 unique people managers. The workers were asked 21 questions in the survey.
As seen in the distribution, these managers are scattered across the matrix and only 12% of them are yelling their way to accomplishments.

Does this key finding reflect, in part, the optimism, excitement, and energy that the Indian BFSI sector has exuded lately?
The BFSI space is buzzing and a number of positives today are cited – "stressed balance sheets of the banks are a problem of the past", and "India is among the fastest growing fintech markets in the world today," to name two.
The sector is not without its share of challenges, though. They are, however, more in the nature of long-term challenges. The banks reported a staff turnover in excess of 30%, last year. At a larger level, it's often argued that the BFSI sector is probably guided more by short-term imperatives.
Like individuals, organisations may too begin by focusing on strengths rather than weaknesses. What are the current collective leadership strengths of India's BFSI sector as represented by these 1579 managers?
We have highlighted 4 areas in which 90% or more managers were found to be generating positive experiences.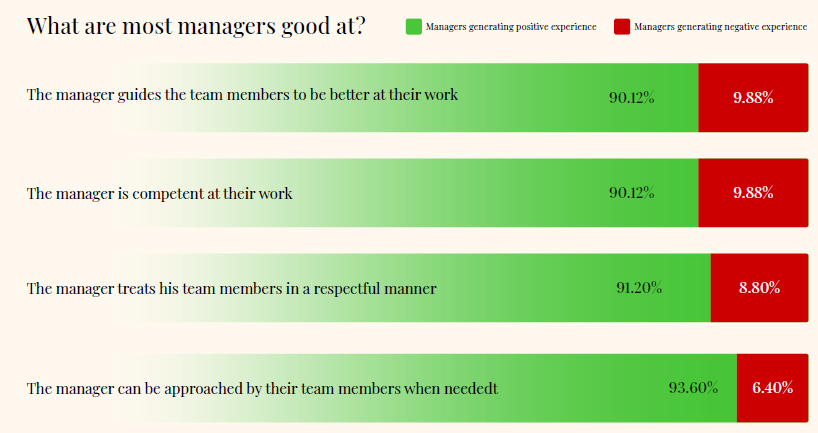 The research findings help one gain a nuanced perspective on the BFSI sector in this backdrop. What cannot be measured, cannot be assessed or improved. In this study, reassuringly, only 12.98% of the Managers were assessed to be "inconsistent" in 10 or more than 10 of the total 21 behavioural traits studied. On average a manager got all 5s on 4.26 areas

56% of the Managers were perceived to be "competent".
For a sector that promises to deliver a lot more in the months and years ahead, this research offers valuable insights.
What can organisations in the BFSI Industry do to create robust leadership pipelines for the future?
If India boasts of the world's fourth-largest bank today, it's courtesy of the energy that the ecosystem has come to be identified with, lately.
To cite another example, it's only recently that India's second-largest NBFC was formed. Surely, in this era of promise and optimism, consolidation and delivery, staff attrition shouldn't be allowed to become a major problem. In fact, a talent pool of leaders and great managers should be developed to carry forward the good work.
This research, then, helps one identify good people leaders and makes a case for retaining them long-term. The survey also argues for grooming and developing high-potential managers in the now-buzzing sector.
Granular data, as arrived at through the research, can be used for leadership development and personalisation. This can also be used to weed out toxic managers from the workforce.
If India's BFSI sector is to be guided by long-term objectives instead of just short-term imperatives, if the fintech industry is to touch the projected output of $ 1 trillion by 2030, sectoral people managers and leaders must lead by example, and they must lead from the front. To make that happen, the Survey findings provide a roadmap of sorts. It also calls for action – guided by a long-term plan.
How can Great Manager Institute® help organisations in BFSI industry to create a robust people leadership pipeline for the future?
Great Manager Institute® can help business leaders concerned with building a leadership pipeline for their organisations with such nuanced analysis using our Leadership Analytics and Development Platform. This approach allows you to take a more surgical approach to build leadership capability and secure the future of leadership across the organisation.