Helping Organisations Build People Leaders at Scale
Great Manager Institute's Leadership Assessment and Development Platform - An AI-powered people leadership assessment and development platform which will help you assess, develop and recognise the top performing people leaders in your organization.
Key Offerings
Our Leadership Assessment and Development platform is designed to help
companies measure and develop people leaders at scale
Assessment
Identify the current leadership and managerial capabilties of your organisation
Development
Enhance their leadership and management skills to build great people leaders at scale.
Recognition
Recognise the top Managers and Leaders accross your organisation
Product Features
Here is what makes our platform awesome for leadership
assessment and development
Real Time Feedback
Gain regular, in-depth insights into your manager's effectiveness in people management, providing valuable information about their performance and enabling informed decisions and improvements.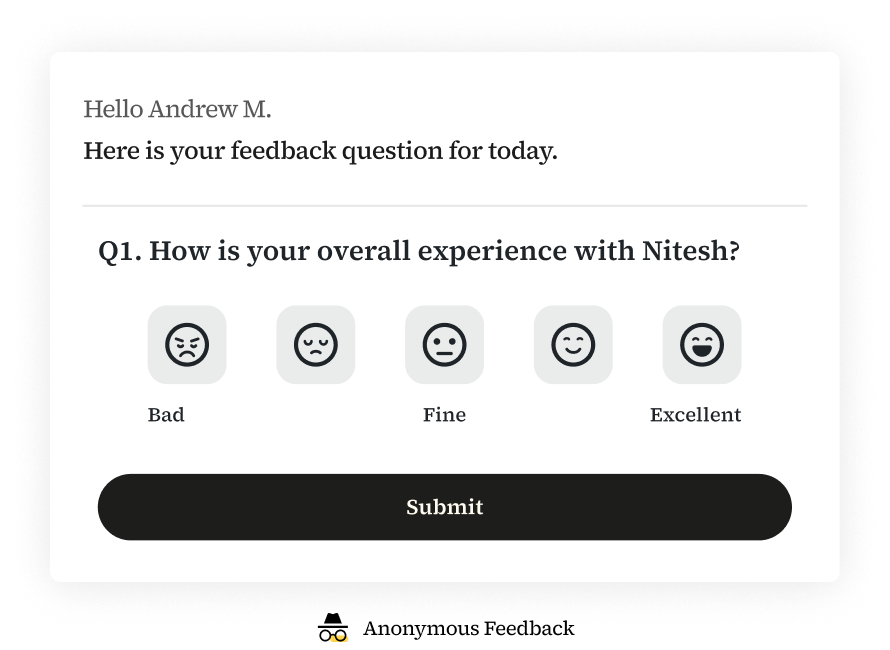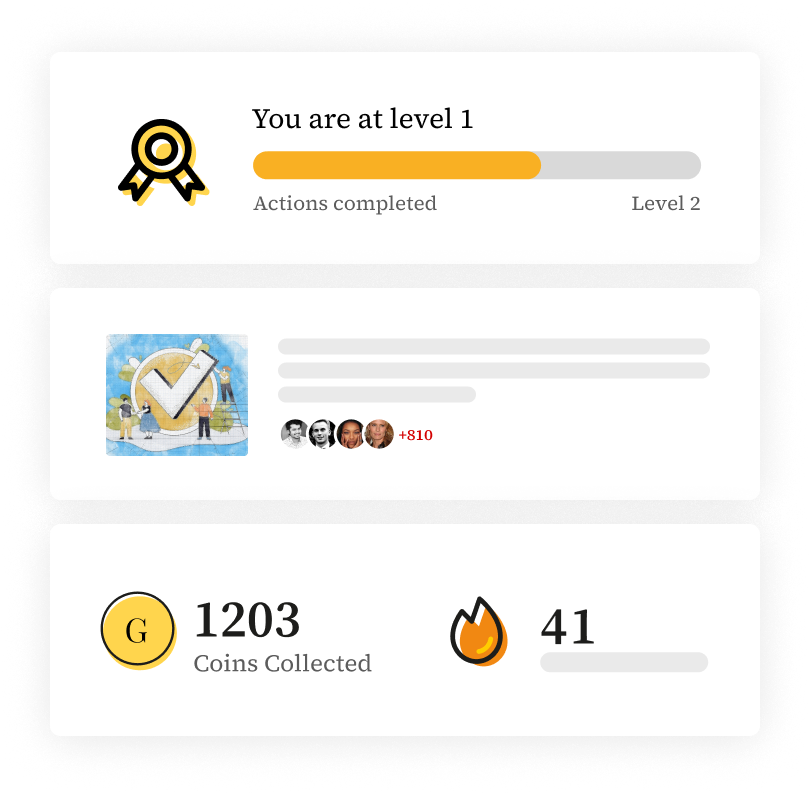 Nudges, not just feedback
Integrating predictive analytics and behavioural science, we foster healthy leadership habits for positive outcomes and organizational growth. Our data-driven insights combined with psychological understanding enhance leadership practices, driving overall performance.
Learning Games
Engage your leaders in situation-based eLearning games designed to enhance their people management skills. Our interactive games provide practical scenarios to develop their abilities and foster effective leadership in managing teams and individuals.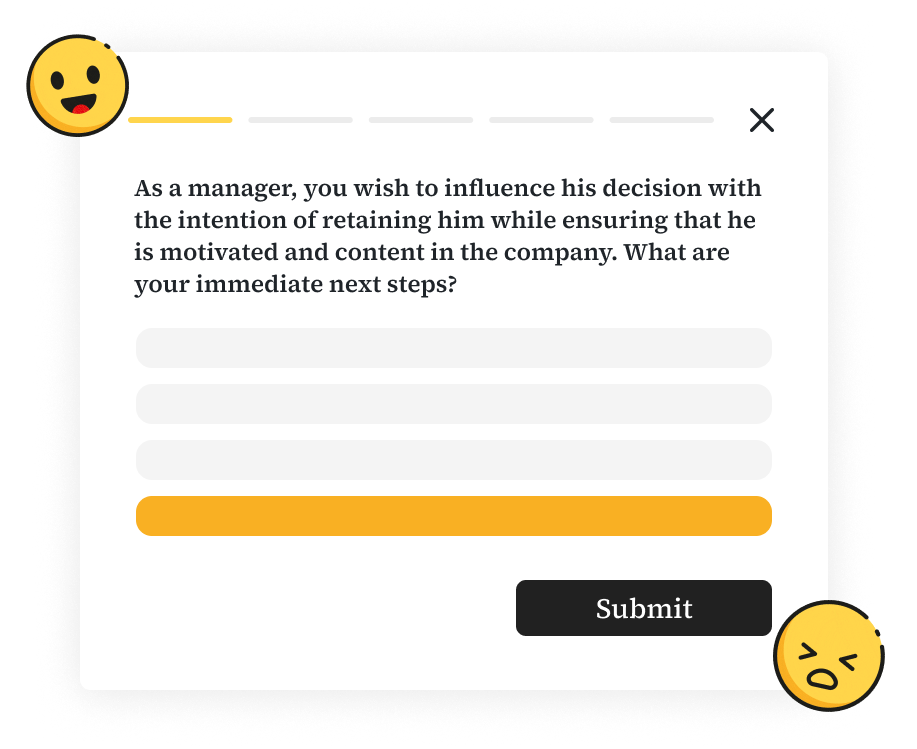 Insights You Gain
Our reports provide you with detailed insights and analytics to
help you identify your superpowers and derailers.
People Management Effectiveness Score
Gauge how effective you are as a People Manager with our People Manager Effectiveness Score
Statement wise scores
Evaluate your performance on each statement to gain insights into your progress and development.
Overall Scores
Measure your score against other Great People Managers to gain valuable comparative insights.
Manager Superpowers & Derailers
Identify your strengths and focus areas as a Great People Manager.
Recommended Actions
Personalised Action Plans to help you develop your focus areas.
Key Metrics
Important data points like number of managers surveyed, total respondents and response rate
Overall Organisation Score
See how your organisation compares with other organisations in your industry.
Overall Sentiment Score
Sentiment Analysis of your employees regarding the organisation.
Demography-Wise Scores
Insights on how different demographics differ in their People Manager Effectiveness in your organisation.
Ripple Effect of Our Work
Transforming People & Culture one step at a time
Higher Performance Ratings
Meet our mentors for the Great
People Manager Study 2022-23
Experts and senior leaders from various industries provide one on one mentoring sessions to select managers.
Happy Customers, Happy Us
Our success is measured by the satisfaction of our customers

Anuj Tyagi
HDFC ERGO, Jt. Managing Director
We rely on GMI's programs to enhance the capabilities of our first-time managers and mid-level managers. GMI's Connect, Develop, and Inspire (CDI) framework is instrumental in fostering a culture that emphasizes transparency, care, and growth. This aligns seamlessly with our organizational mission, which is to become the preferred and most obvious choice for our people.
Vibhash Naik
HDFC Life, Cheif Human Resource Officer
After completing the workshop, people managers became aware of their own ability to foster an atmosphere of trust and high performance. Regarding the program's learning methodology, participants gave it favourable reviews. I'm confident that teams made up of certified managers will undoubtedly see a significant change in their leadership style.
Deepak Pohekar
ZF Wind Power Coimbatore Limited, CEO
I got the opportunity to take part in GMI's Great Manager Program last year. As a people manager, I valued the one-stop learning platform that allowed me to record my action plan, make any adjustments to it, as well as view my feedback. I wholeheartedly suggest this class to any working line manager who wants to learn practical methods for people management.

Viktória Lődör-Martinecz
Tesco Business Services & Technology (Hungary), Learning Partner
Any manager who wants to be an employer of choice must comprehend what their team wants and their objectives and respond to those, which is what the Great Manager Institute has assisted us in doing.

Deepak Khetrapal
Orient Cement, Managing Director
The Great Manager Certification Program in collaboration with Great Manager Institute®, helps us mentor and aid our managers to propel their careers and their people management practices.

Balfour Manuel
Blue Dart, Managing Director
Frequently Asked Questions
Great! If you think you have a DNA of speed, customer obsession, and global mindset, we are the right match for you. Just send your CV and details to [email protected] and we will get back.
Thanks for this interest of yours. We have a special program for mentors and coaches, you may read some details here https://www.greatmanagerinstitute.com/mentor-program/ . I will ask my colleagues in the Facilitators Team, well known coach Dr Deepika Dabke or our cofounder Dalreen Patrao, or any members from their teams, to connect with you.
I believe that my company GMI has one of the highest brand values in the world of people management; hence any masterclass pertaining to the same shall have an enviable value.
This is a question many have asked us. We believe that scores represent perception, while implementation of action plans reflect a focus towards behavioral evolution. Without behavioral evolution, no certification cannot be considered sustainable. And we are here to certify sustainable behavior (for at least the period of 1 year).
Its ok! We request you to continue doing new action plans, and even seek help from our expert human coaches or mentors. They will suggest how to get the option of recertification. Please remember, the learning is along the way, not at the end of the road.
What is the certification criteria?
Post-survey feedback score has to be a minimum of 70%.
Minimum 60% positive feedback on at least 1 action plan.
Post-survey score should not have dropped more than 10% points from pre-survey.
Hope this solves your query 🙂
No, the email id is a unique entry in our database. But let us know if there is a special case, we will check with our technology superheroes if something can be done.
During the survey period, the portal for all participating managers is blocked as per our standard operating procedure. You will be notified once the portal has been released via email.
You may be seeing cached data from the past and you may need a hard refresh i.e. simply use "Ctrl + Shift + R" and wait for the page to reload. After reload you will be able to see the dashboard. If the issue persists, reach out to us for support. Please write to us using your registered email id. OR, simply message us here and I will ask my friends in the Customer Support department to get in touch with you.
Please make sure you follow the password rules mentioned on the login page. If you think your password follows the rule and is still not getting accepted, please reach out to us. Write to us using your registered email id. Find the email address for support at the end of this section.
Kindly check if the following is correctly entered: Country Code: The country code should be of the country in which this mobile is currently registered. Mobile Number: Please cross-check the digits entered with your correct number. Network: Please check if there are any network-related issues with your telecom operator. You will receive the OTP even if DND is activated on your mobile number. In case you still do not receive the OTP, you can click on the Resend OTP button. This time, besides sending OTP to your mobile number, the OTP is also sent to your email address mentioned during registration. If you are still facing any issue, please reach out to us on [email protected].
If your organization has enrolled you for this Great Manager Certification Program, you are required to use your personalised URL for registeration and your email ID is pre filled. If you haven't received an email with the URL, please connect with your company representative. If you are an individual user, you may choose to use any email address which you can access. We will use the email address for login and other communication purposes from GMI.
You can add notes by clicking on the notes icon floating on the right side of the screen. Additionally, there's another notes section in the Learning and Development Module. You may save Notes while watching videos or even while going through other modules of the platform
That's why we are here. Our technology team is here to support you. I will ask my human colleagues, to get back to you on this. Please share your concerns below. I am taking notes.
We are sorry for your trouble. We have tried to optimise our videos for different internet speeds. But if there are buffering issues, we would request you to let the videos load. The first time for any video to load may be high, but once a video is loaded, you can log back again and see it without need of buffering. Your feedback is well taken and we will evaluate your special case.
We keep on bringing new updates to the platform; and sometimes there may be loading issues after a major deployment. Or, there could be internet issue. Look at the message that is being conveyed there through the pop-up box. That will give you an idea of the trouble and what actions can be taken. One of the ideal solutions is to try to log out and log in again or refresh using "ctrl+shift+R".
If you are on any legitimate browser like Chrome, Firefox, Safari or Edge, you should not face any issues. Internet Explorer is no more a supported browser for most applications, Edge would be a better option if you would like to stick with Microsoft. GMI has no preference as such, but I like to give a side hint to the users to use latest versions of Chrome!
If your organisation has enrolled you for certification, please connect with you Batch Anchor or GMI SPOC. If you have individually registered, you will receive your certificate post completion of your final survey if all the certification criterias are completed.
Yes we do. We record the videos that you have watched and the assessments that you have given. This helps us serve you better!
During the intervention, there may be a few pulse surveys, especially around the experience of various action plans, but certification is provided only after what we call the post-intervention survey or "post-survey" in short. This is another round of stakeholder feedback survey, based on their renewed perceptions of the user's managerial style.
These are best practices by other leaders who have completed their GMC journey and who have a similar profile to yours.
The bot is designed to be your coach, so it does not try to give you a solution to any of your problems; but rather takes you through a process that can allow you to introspect over your problems and make you solve them yourselves, so that there is a sustainable improvement in your style of management. Hence cut it some slack if it does not listen to you and makes you go through a process in its own style.
We do give special opportunities to some of our users to do so! Remain tuned to all our emails and announcements pertaining to him. And ping me regularly!
You can read the description of the mentor. Based on the description, you can click on connect. The mentor will revert back within 48hrs over email.
Mentors are experts who can guide you during your Great Manager Certification Journey. They are combination of GMI Facilitators and Industry experts.
Yes, you can edit your Action Plans as many time as you want.
The bot is designed to be your coach, so it does not try to give you a solution to any of your problems; but rather takes you through a process that can allow you to introspect over your problems and find a solution, so that there is a sustainable improvement in your style of management.
These come to you based on the frequency at which you are seeing the videos in the L&D Main Section. Our A.I. system knows what is the ideal frequency for you and based on its understanding of what it should be, it will offer you mystery boxes at set intervals. Hence we request you to log in to the platform at least once a week. Else, you may miss out on some amazing mysteries that lead to some awesome gifts!
You can add your implementation update by logging in to the platform, selecting 'My Action Plan tab' and clicking on "Add Implementation Update". Or, you can simply do it by using your Whatsapp. Just whatsapp us from your phone (the one used for registration if possible), and we will guide you on how to update your implementation actions. Simple and easy steps that you can do in minutes!
Just go to the section called Manager Mantras and see the practices there that have been automatically created for you. Also, explore the COMMUNITY; here too you can view some interesting practices. You may even validate your practices on the community.
Start with creating an action plan and while you are creating one you will see the sample action plans appearing on the side. This is best seen on a laptop/desktop.
The basis is your profile: your stakeholder centered feedback survey, your own self assessment, and some other profile details you fill about yourself. Based on all of these, we recommend you certain action ideas. The context of your organization is also taken into account.
We recommend going for a minimum of 2 action plans to get certified.
Based on your survey scores, your top 3 areas from Connect, Develop and Inspire are your superpowers.
Based on your survey scores, your top 3 areas from Connect, Develop and Inspire are your superpowers.
After COVID struck, we did a cross-industry survey on how the expectations are changing with respect to people management. And guess what, we found that the Connect, Develop, Inspire framework stands the test of time; rather our data shows that its relevancy has increased even more.
Because action plans help you bring a behavioral evolution that causes a sustainable impact on your people management style. If you have access to our L&D content, do go through some of them, to know why its important.
An action plan is a simple ritual that is Goal oriented, Memorable, and Individualised for your team. The aim of an action plan is to build habits, that will create a significant impact in your team behaviour, business performance, engagement and motivation.
The heat map indicates the difference between your self-assessment survey score and team-feedback survey score for every sub-theme. Following is the colour scale:
Shades of red: If the self-assessment survey score is more than the team-feedback survey. Darker the shade, higher the difference.
Shades of blue: If the self-assessment survey score is less than the team-feedback survey. Darker the shade, higher the difference.
This is the work of my various artificially intelligent friends. Together, we try to figure out what managerial style of yours is prominent and what is not so much. This is what we show through the style cloud! Hope you identify with it. If not, let me know, and I will see how we can improve further.
Your score indicates the stakeholder feedback on your managerial style. It may not be clear what the various numbers mean unless you see it against the benchmarks. There is a benchmarks button along with your scores. Do check that out as well. And thank me later 🙂
Your feedback givers are stakeholders mapped to you. These can include your team members, reporting manager and peers. To find out who have been mapped to you, click on the your 'Your Respondents' button on the profile overview page. You can get in touch with us, in case of any incorrect mappping issues.
The first survey is an evaluation of the perception of your stakeholders for your managerial style. This helps us personalise the intervention for you, while holding a mirror to you.
We have done a number of tests where we tried to find correlation between business peformance and the framework of Connect, Develop, Inspire. And interestingly, we have found a direct impact on performance. Case Studies like those of Tata Power can be shared with you to know more about this. Do let us know what you think as well.
The Great Manager Institute has created a reasearch backed framework called 'Connect, Develop, Inpire' aimed at efficiently including the key elements that are a part of a Great Peopl Manager
If your organization has enrolled you for certification, you cannot open a survey for yourself. Your organization will help you with the same. If you are have individually registered, you can open survey for yourself.
We appreciate you suggestions & recommendations. If you are an organization participating in the study, please reach out to your RM or if you are an individual participating in the study please write to [email protected].
Sure, I would love to pay heed to the same. Kindly share the same here, and my team shall get in touch with you.
Yes, shortlisted managers who are qualified to be featured in the Top 100 Great People Managers' List are shared with the organization prior to publishing.
The winners are usually announced in March/April every year after we close the registrations in Nov/Dec.
Yes, both the positive and negative comments are mentioned in the Individual Manager Scorecard. Note: All the comments are anonymous.
There are 3 types of insights GMI can share. 1. Individual Manager Scorecard(Complementary), 2. Organization Report(Complementary), 3. Leadership Presentation(Chargable).
The Round 1 or Manger Assessment & Team Feedback Survey is open for a period of 7-10 Days depending on the size of the organization and the response rate. Round 2 or which is submission of Best People Practices would again take around 7-10 Days. On the higher side, it would take two months to complete the entire study.
We maintain all compliance required as per the GDPR regulations.
Firstly thank you for participating in the Great People Manager Study. You must have been assigned with a Relationship Manager from our team who can guide you with all the survey related queries you have. If you still have any concerns, kindly write to [email protected].
If the problem is in logging or registering, please do a hard refresh (Control+Shift+R). Try logging in again. If this conventional approach does not work, do not worry, mention your problem here, and our team shall assist you.
Yes, we have our Learning and Development program- The Great Manager Certification. It is a 20 week program that guides a manager to become a better people manager. If you wish to know more about it, you may write to [email protected] and our team will get in touch with you.
We share the insights with the organizations in the form of 2 reports-Organization Scorecard and Individual Manager Scorecards. Additionally, managers will also have access to our portal which has:-
Profile Overview (Detailed insight on the survey)
Access to our Great People Managers' Community.
Access to the finely curated Manager Mantras (Best Practices throughout the years).
It depends on the overall performance of the managers from the organization.
There are 25 close-ended and 4 open-ended questions in the survey marked on a 5 point scale.
Unfortunately, we won't be able to customize the Survey questionnairre.
There are 3 rounds to the study Round 1- Manager Self-Assessment & Company-wide survey Round 2- Submission of Best People Practice Additionally, shortlisted managers will have One-to-One Mentoring Discussions with Select Industry Leaders. If you wish to know more about the study methodology, you may write to us at [email protected] and our team will get in touch with you.
Connect, Develop & Inspire is our proprietary framework that helps us measure the People Manager Effectiveness of various managers.
Any number of managers (be it a first time manager or the CEO of the company) who have a team size of 3 and above can participate in the study.
Yes! Your participation in the Great People Manager Study gives you an opportunity to be a part of The Top 100 Great People Managers list which is published in the Economic Tmes.
Yes, for organizations it depends on the number of managers participating in the study. For Individuals, there are 3 types of packages available in our portal. By subscribing to any of the packages you can participate in the study. If there are any further queries, kindly write to [email protected].
Participating managers must have at least 3 direct reports under them who should have worked with the manager for more than 3 months. The team managed by the leader should be located in India.
Thank you so much for showing interest to participate in the study. Kindly write to [email protected] and our team will get in touch with you. You may also nominate your organization to participate in the study.
GPMS help you understand the organizational level people management trends and the employee experience at your Organization. You also get to know the individual People Managerial Profile of Leaders at your organization with actionable insights. The study gives you an opportunity to get recognized as an organization with Great People Managers, thereby elevating the Employer Brand, which helps you to promote people management and recognize Great People Managers at your organization
GPTW focuses on organizational culture while GPMS focuses on Managerial effectiveness. Our survey revolves around 3 fundamental pillars - Connect, Develop and Inspire that measures your People Management Effectiveness.
Certainly, we would love to share. Economic Times is our partner for Great People Manager Study in India. Together, we honor the Top 100 Great People Managers of the country along with Companies with Great People Managers. The National HRD Network recognizes managers qualifying the threshold with a Certificate of Merit. For more information, you may write to [email protected] and our team shall get in touch with you.
The Great People Manager Study is India's largest study on people management. It captures team members' feedback through 25 statements on manager effectiveness, across 3 broad themes of Connect, Develop, and Inspire. For the organizations participating we give 2 reports-Organization reports and Individual Manager Scorcards. All the participating managers and leaders go through a rigorous selection process using a multi-layered evaluation methodology. This finally culminates into a list of the Top 100 Great People Managers and Top Companies with Great People Managers which is published in one of the leading business magazines of India, like The Economic Times. If you wish to know more about it, you may write to [email protected] and our team will get in touch with you.
Get In Touch With Us
Take the first step in equipping managers with the right tools for success in today's work environment.