Since 2018 nearly all significant talent-related reports highlight the impending talent shortage that businesses face. These reports come from the likes of Korn Ferry, World Economic Forum, ManpowerGroup, Deloitte, McKinsey & Company, PwC, Gartner, Randstad, LinkedIn and Glassdoor. In fact, virtually all of them, based on an overwhelming quantity of employee coverage, predict that obtaining the right individuals will become increasingly harder in the coming years. An aging workforce, mismatch of skills and expectations of the new age workforce, increased reassessment of personal priorities in light of work obligations have all added to the problem.
But this is not limited to a straightforward quantity scarcity arithmetic issue. World Economic Forum 2023 report states that 'Employers estimate that 44% of workers' skills will be disrupted in the next five years.' Therefore, businesses are also staring at a glaring issue of quality. It further states 'A majority of companies will prioritize women (79%), youth under 25 (68%) and those with disabilities (51%) as part of their DEI programmes. This fundamentally alters the employer-employee dynamic.
Organisations are updating their talent pipeline strategies to find the sweet spot between build, buy, and borrow in order to stay competitive.
To keep pace organisations are reworking their talent pipeline strategy of the sweet spot between Build, Buy and Borrow talent. Acknowledging Build as the best financially and operationally viable approach. However, compared to past times, developing talent internally is now a more difficult task. Upskilling and attrition are widespread issues in practically every business.
What does our research say?
At Great Manager Institute®, our research reveals "the people manager's" undisputed influence on Attrition, Accountability, Active Betterment and Ambassadorship in organisations. In one of our recent interventions with people managers of a leading Insurance Organisation we observed that when people managers invest in connecting with, developing and inspiring their team members, attrition fell by approximately 19%.
We looked at 4 engagement indicators to evaluate the impact of managerial effectiveness on employee engagement. These are.
Ambassadorship: My manager is highly competent in their work.
Accountability: Team members of My manager hold themselves accountable for their performance.
Active Betterment: My manager guides me to get better at my work.
Attrition: I want to work with this organization for a long time.
As expected, Effective People Managers outperform the others on all parameters. However, in a time when organisations are gearing to build talent from within and employ a more diverse workforce who will be expected to hit the road running, the influence of effective people managers on Active Betterment stands out.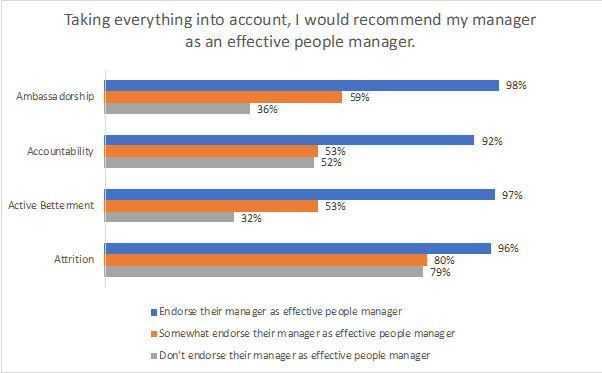 Next, we double-clicked on these elements to determine the significance of managerial seniority.
Ambassadorship: Strongly agree that my manager is highly competent in their work.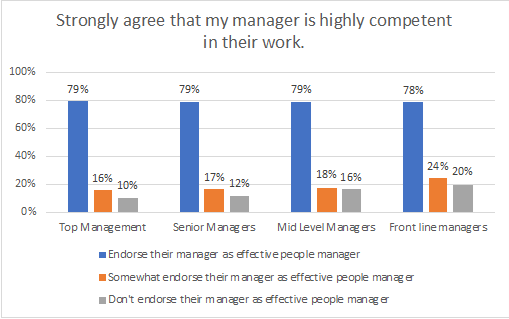 Only 10% of Top management is seen as competent with their team members don't experience them as effective people managers. This percentage rises to a meagre 20% at the front line managerial levels. This can have various negative impacts on both individual employees and the overall work environment. Incompetent management can have an impact on job happiness, professional development, and overall work experience, all of which influence an employee's decision to stay or quit. However, the specific percentage can vary across industries, regions, and organizational cultures. Conversely, when managers are viewed as competent, a positive and encouraging environment is fostered, allowing employees to reach their full potential and make valuable contributions to the team's and the company's overall success.
Accountability: Team members of My manager hold themselves accountable for their performance.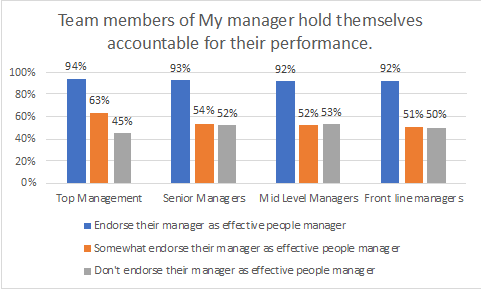 Managers who are seen to be effective people managers are 2X as likely to drive accountability within their team. Driving accountability at work is crucial for business success. Achieving Goals, Problem Resolution, Collaboration, Building Trust, Reducing Conflict, and Driving Continuous Improvement are closely linked with the degree of accountability within teams. Employees are more likely to seek feedback, learn from mistakes, and collaborate with each other to achieve better results. An interesting observation here is that being inconsistently effective as a people manager is not really better than an ineffective people manager when it comes to driving accountability.
Active Betterment: My manager guides me to get better at my work.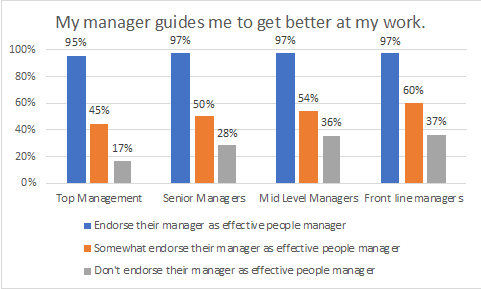 Not being able to guide team members to get better extends beyond individual performance to affect team dynamics, organizational culture, and long-term success, especially at leadership levels. While individuals face the consequences of Stagnation of skills and performance levels, and missed opportunities to rise within the organisation. Organisations run the risk of an over reliance on hiring, missed opportunities for innovation, lethargy towards change, stagnation in productivity. Guiding team members and being seen as an effective manager have a cyclical relationship. One positively feeds the other. However, when team members endorse their manager as an effective managers they are more likely to consider and act on the guidance provided by the manager
Attrition: Don't feel positively about working with the organisation for a long time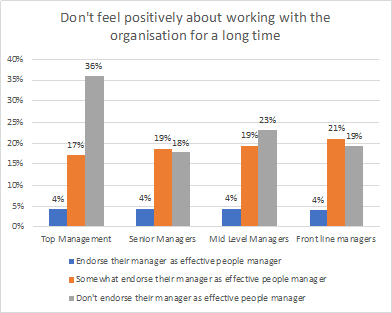 Employees are five times more likely to desire to leave a company if they believe their people manager is ineffective than if they believe the people manager is effective. At the top the challenge is higher. While employee attrition can be influenced by various factors such as inadequate compensation, lack of career growth, mismatched job roles, inadequate benefits, market opportunities; poor people managers are a growing concern. To us at Great Manager Institute®, there is a visible relationship between retention and managerial style. Managers that make a deeper connection with employees, engage in individual's development and progress, and motivate via purpose and recognition address elements that cause stress and burnout, a lack of job satisfaction, and hence inspire greater retention.
As organisations race to survive, expand, and grab more markets and consumers, the rules have changed in the middle of the game. Organisations are and will continue to need to race hard to retain talent that can expand, and grab more markets and consumers.
Companies that invest in their human capital deliver more consistent earnings through difficult times, according to a 2023 McKinsey Global Institute report. An investment both emotional and monetary in developing people management style at all levels is no longer optional. It is an indicator of organisations that are truly future ready.