While mentoring has been around in some form or another for a long time, it has never been easier to harness its power to have a long-lasting and meaningful influence on individuals and organizations. And that's good news.
What makes mentoring even more critical today?
Mentoring is proving to be essential for both company and individual success. On one hand, organizations today are confronted with the challenge of operating in a constantly shifting and an unpredictable environment. The aftermath of a pandemic, increasing geopolitical conflict, and gloomy economic conditions place unprecedented demands on business and strategy. Employees, on the other hand, find themselves struggling to fulfil the various obligations of their professional and personal responsibilities. Often, in an attempt to "do it all" they experience burnout and fall well below their normal performance levels. Thus, accepting this new reality, with all its uncertainty and complexity, necessitates a shift in leadership strategy and approach to people management. It strengthens the case for trust-based leadership.
As more and more workplaces attempt to transition from an authoritarian work culture to one based on trust and inclusion, companies are starting to realize that that existing leadership programs are severely constrained in their capacity to prepare leaders for this change. Research indicates that short-term leadership courses are largely inefficient at assisting leaders in developing emotional intelligence, empathy, and other critical interpersonal skills. Leaders looking to develop these qualities require consistent support and an informed dialogue.
Mentoring and coaching are therefore seen at the top of the list of instruments for effective leadership development. They are acquiring an increasingly prominent role in leadership development.
Research backed benefits of mentoring
Research shows that the coaching industry is one of the fastest growing sectors in the world. Globally, the estimated size of this sector in 2022 was 20 billion dollars. In India, research indicates that coaching will become a 7 billion dollar industry by 2030. Most Fortune 500 companies now identify mentoring as an important employee development tool. 92% of the US Fortune 500 companies them having a mentoring program.
Mentoring, according to experts, is notably successful in developing leadership abilities because it enables personal transformation via one-on-one encounters. Active conversations with a mentor may assist an individual in identifying their strengths and limitations as a leader and recognizing opportunities for growth. It also provides a secure environment for leaders/ managers to share their thoughts, think about the dilemmas of leading others, and be vulnerable. The knowledge and experience of a mentor ensures that the mentee receives guidance tailored to the mentee's specific context and constrains. A skilled mentor also provides gives a mentee thought-provoking case studies, anecdotes, and positive role models.. As a result, they can assist the mentee in developing a blueprint for future success.
The growing need for mentors and coaches also reflects the effectiveness and value individuals place on relationship-based training methods. Organizations that invest in relationship-based leadership development tools like mentoring see a positive impact on employee retention. In a study 62 percent of employees from organizations that use mentoring or coaching agreed with the belief that their organization's leadership development initiatives helped in retaining talent. Another study showed that employees with mentors were 5 times more likely to secure promotions than those without mentors and 67 percent of organizations reported that employees are more productive when they have mentors. Great Manager Institute's Study shows that employees who receive job related guidance from their managers are 9 times more likely to feel positively about both their manager taking an active interest in people's professional development and manager helping people see growth opportunities in the organization.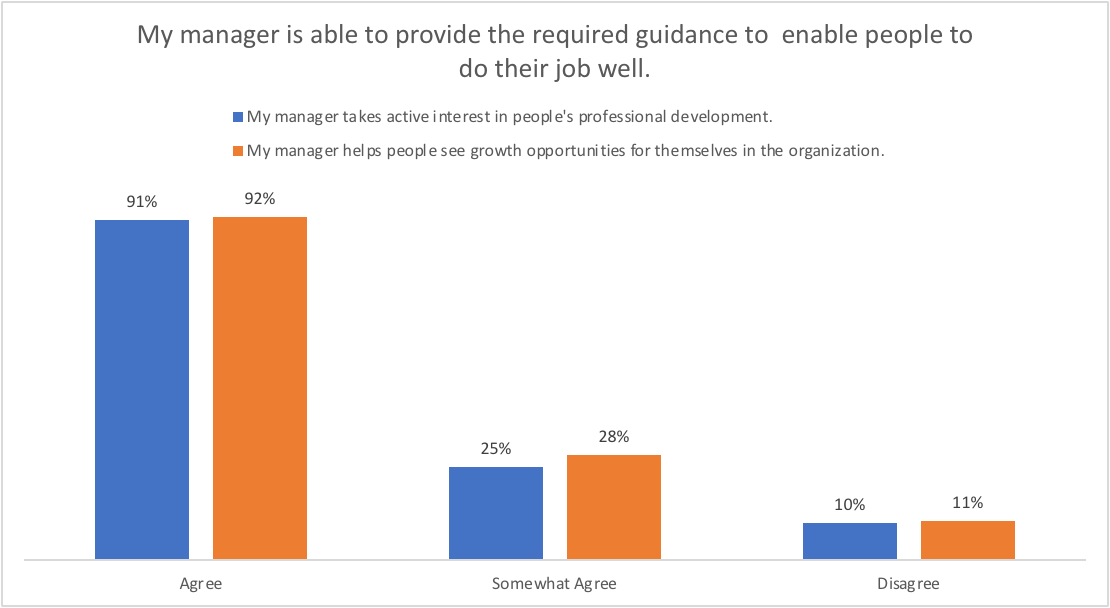 The role of mentoring
In a study by LinkedIn, 51 percent of respondents said that they continued to stay in touch with former colleagues. While the exact role this plays in their development may be not be clear, there is a strong indication that workplace connections are of immense value to employees. Mentoring is believed to speed up professional progress in addition to boosting knowledge and skills. It also, provides just-in-time assistance, perspective on dilemmas, challenges, and issues; it bolsters skill building, self-esteem, and confidence. Mentoring gives mentees access to industry leaders, which aids in the development of a stronger professional network.
Mentoring adds immense value to those playing the mentor role, as well. Through mentoring, Mentors can deepen their technical and subject matter expertise. Another area where mentoring may be quite helpful is the development of communication skills and emotional intelligence. Focusing on the needs of another, active listening and responding in a judgment free manner helps improve communication skills and builds a leadership style based on leading with trust. Lastly, when monetary rewards or yet another "difficult endeavor" fail to sufficiently motivate, helping others develop may greatly increase a person's feeling of meaning and purpose.
By mentoring individuals inside their organizations, managers may improve their awareness of how actions affect those at lower levels of the organization and re-evaluate procedures and policies to create a more dynamic and productive work environment. Mentoring people from diverse backgrounds also fosters empathy, which managers may utilize to create effective diversity and inclusion strategies in their own organizations.
"I enjoyed the conversations with the other people managers on the Great Manager Institute's Mentor platform. It gave me a chance to share my experiences and help Managers with their leadership styles. Leadership is so central to bringing out the best in people and I enjoyed the opportunity to have these conversations."

– Dalreen Patrao, Mentor on Great Manager Institute's mentorship platform
More than ever, people are looking for the ideal mentor to assist them create the strongest route to professional success and personal wellbeing. However, finding the right mentor is a challenge not so easily solved. In one study 97 percent of the respondents said that having a mentor is valuable and 55 percent believe that having a mentor can help them succeed. However, 85 percent did not currently have a mentor, indicating that employees may not have access to resources that would help them gain access to the right mentors.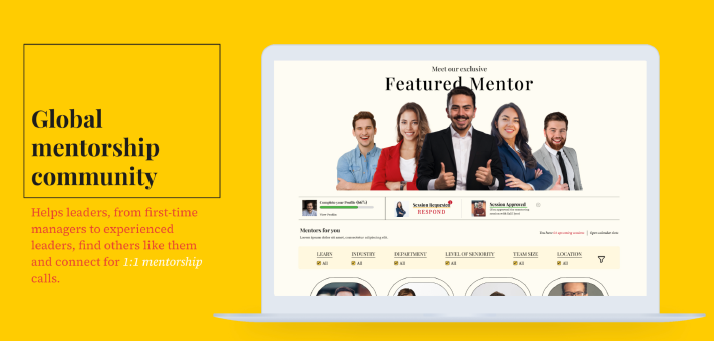 Virtual mentoring platforms, such as GMI's platform, are assisting in the "glocalizing" of mentoring by making mentor networks more accessible to individuals and organizations than ever before, while also overcoming the challenges of a traditional mentorship programs.
In an increasingly global workplace, mentees may wish to explore mentoring possibilities from outside their organization or even their country. Virtual Mentoring platforms can help individuals connect with Mentors from around the world who can provide a unique perspective and specialized knowledge to help them grow in their chosen field.
With technology, virtual mentoring offers more freedom. Online meetings may be arranged whenever it is most convenient for both parties. This helps people retain a feeling of work-life balance, which is especially important for individuals who have additional personal obligations.
The potential to foster genuine relationships between participants is the most significant advantage of virtual mentorship programs. By communicating with a mentor remotely rather than in person, a mentee may find it simpler to be honest and open, something that may not be possible in a more formal setting.
It is difficult to overstate the potential of mentoring in facilitating significant change in both the mentor and mentee. It's maybe the most useful instrument we have at our disposal in these trying times.